Email Defense
Email Spam Defense Gateway

Email User
10
11-50
50-100
100 Onward
>Price Per Month Per User
>$1.70
>$1.60
>$1.50
>$1.00
Setup Fee
HostRelax™ Offer Setup Fee Waived For All Plans

* All price are quoted in USD Dollar ($)

What is Spam?
You have probably seen an increase in the amount of "junk mail" which shows up in your email box, or on your favorite newsgroup. The activities of a small number of people are becoming a bigger problem for the Internet. Most email is spam and other malicious content. It consumes your bandwidth, server capacity, IT staff and customer support resources. Malicious email is also a significant problem for your customers and the threats keep changing and growing."Spam rates are rising while cyber threats such as viruses and phishing attacks are shifting from traditional methods to more targeted attacks. The global ratio of spam in email traffic rose to 64.8 per cent in June 2006, an increase of 6.9 percent over the previous month", according to a report from security firm MessageLabs.
Are you tired of receiving Spam? Are you looking to protect all email for your entire domain with little or no administration fuss? If so we have the solution for you!
HostRelax™ Email Spam Defense Gateway, How it work?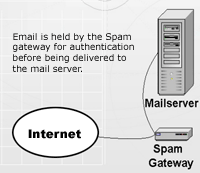 Our Anti-Spam program is available as a hosted solution. Our Email Spam Defense Gateway allow the accept delivery of valid email while reject and block as much spam email as possible when it first enters the network before it reaches your email server. This technology design takes a load off of your server system by blocking unwanted email, and significantly reduces the chance that generated bounce back email by you or back to innocent third parties. The anti spam engine with its advanced heuristics, statistical analysis, signature filtering, plus blacklists and whitelists to block spam and phishing emails with superior accuracy.
As part of the process, all your organization email is stored for 7 days, HostRelax™ gives you the added security of knowing that in the event one of your email servers goes offline for any reason, your email will be backed up from the last 7 days.
Email Spam Defense Gateway Include
Domain Based – covers all email of a domain name
Multiple layers of virus scanning and blocking
Advanced spam filtering
Attack prevention
Redundant storage in the event of server challenges
Whitelist and Blacklist
Service will be activated within 24 hours soon after we received your order confirmation. If your domain name is hosted by HostRelax™, we will help you update your MX (Mail Exchanger) record automatically else we will send you an email with the correct MX settings.
If you are interested to know more about our Email Spam Defence services, please do not hesitate to contact us